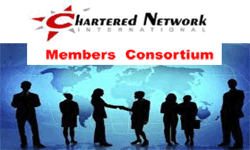 Chartered Network International (CNI)  holds the world's largest consortium of networked Chartered Professional service domains. Get Chartered for new business opportunities and co-identification. All members will be digitally connected from a choice of over 20 rich keyword domain names for brand affiliation and intra-eCommerce opportunties.
>> Business and Professional Service Exchanges.
>> Good specialty domain brands. Ready marketplaces.
>> Visit us at www.charterednetwork.com

View CNI Portfolio of Specialty Domain.
Select an interest with a Consortium Plan to participate. Apply here.