The eConsortium Ecosystem and its Structure
Under the aegis of the eConsortium Ecosystem, members help one another to enhance each other performance and growth.
The Consortium comprises of Affiliation, Associate and Registry Members and supported by a distinguished circle of investment clienteles and strategic partners from both the education and industry sectors. as well as our main knowledge partners.
The eConsortium @ Qcircle with a uniquely built ecosystem for growth provides the framework for cooperative development among networked members. Members can participate in our chain of inter-related business entities and be affiliated with our internationally recognised knowledge domains, specialty portals and service channels for doing business worldwide
All Consortium Members are granted privileges to advance Qcircle and its value added programs and applications in their portfolio of business.
The Consortium is open for participation by subscription of a Consortium Plan. The Plan allocates business privileges and financial rewards for members' participation.
Affiliation
Affiliation Plan comprises two categories of participation
Qualified Affiliate
Qualified Professional
Qualified Corporate
Associate 
Associate Plan comprises three categories of participation
Certified Professional
Certified Specialist
Certified Corporate
Registry
Registry Plan comprises three categories of participation
Business Online
Ecommerce
Global Host
Collobrative Partners
Global Partner
Strategic Partner
Investment Clienteles
Individual
Corporate
Philanthropist
Structure of the Consortium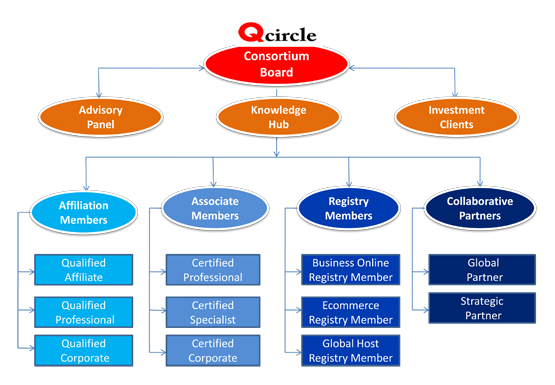 Integration Process to the eConsortium
Click here to know more about its integration to the eConsortium Ecosystem.