The eConsortium Ecosystem @ Qcircle
 The main features of Growth Model : Members help one another and partner among themselves in the growth process @ Qcircle:
Education : Learn to Innovate
Provider of an exploratory environment for creative pursuit. We grant Qcircle Awards that lead to chain of practical job and business development opportunities. 
Business : Transform to Enterprise
Developer of a viable and sustainable business platform for all. We design  a set of Consortium Plan and an integration process to reposition members to the knowledge based digital economy.
The Growth Paradigm and its LITE environment
The Growth Paradigm has a distinctive prepared environment encompassing four main developmental stages / zones that empowered members to learn to innovate and be transformed to enterprise @ Qcirle.


Learning Zone : Education Development 
Qualifying to Certified.
Members find their interest for development and get qualified and be certified in the process. We offer Competency and Certification Awards for members to be competent in creating their own job or profession. Globalisation Award prepares members for the global marketplaces
 Innovation Zone : Business Development 
Affiliation to Registry Plan.
Members innovate and  align their competencies and abilities with us and be distinguished for service. Here, they create their own job or business and subscribe to a Consortium Plan for financial returns. Members can begin as a Affiliation Member and advance themselves to be a Associate / Registry Member at their own pace.
Transformation Zone : Brand Development 
Branded Enterprise @ The eConsortiumn.
Members are transformed to enterprise through our branding process. We offer brand affiliation for all Registry Members to be identified with Qcircle for doing business wherever they are allocated. The use of Qcircle and its product and service brands is a value proposition for all Registry Members to gain business leverage.
Brand Affiliation or co-branding is the new way to progress. Unique features include :
Keyword domain with choice of specialty for easy recognition
Rich content and event management system for a head start in business
Inter-disciplinary and trusted interactive for cross business development
Consortium Plan for a good return on investment
On subscription to a Registry Plan, members can apply for a specialty template for development. Members will be allocated a sub domain for the brand affiliation.
For example, the allocated sub domain will appears as yourname.charteredprofessional.com or yourname.montessorian.com.
There are hundreds of branded business and professional keyword domains available to suit members' personal and business interest.

Upon completion of the branding process, Registry Members are granted privileges to promote and conduct Qcircle's education and business applications, product brands and service channels as value added services or add-on modules in their portfolio of businesses.
Enterprise Zone : New World Consortium
 Virtual to Realty.
Qcircle is a mega eConsortium that holds a chain of interconnected domain brands and businesses. The Consortium Plan provides the privileges and rewards for members participation. Members are empowered to promote Qcircle and its applications wherever they are located.  Co-identification with an internationally recognised online presence, the world is now one enlarged marketplace.
The Knowledge Portal for cooperative learning and business development worldwide.
The Education plus Business (" E + B ") Portal @ Qcircle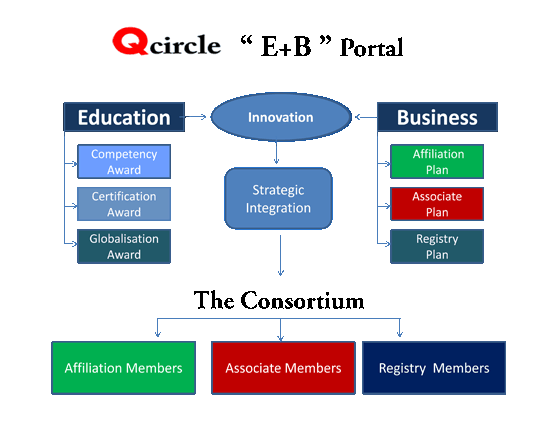 The education plus business ( "E + B") portal is part of Qcircle's prepared LITE environment. It provides the development capabilities for members to meet the challenges of a new world economy. Under the aegis of the knowledge ecosystem, members help one another to achieve mutually beneficial outcomes.
 Key features : Entreprenerial Innovation. Strategic Globalisation. 
Click to know more about Qcircle's growth constructs : The Members "E + B " Portal .